FOR IMMEDIATE RELEASE - TNN (Truffles News Network)
Truffles the Kitty Announces Candidacy!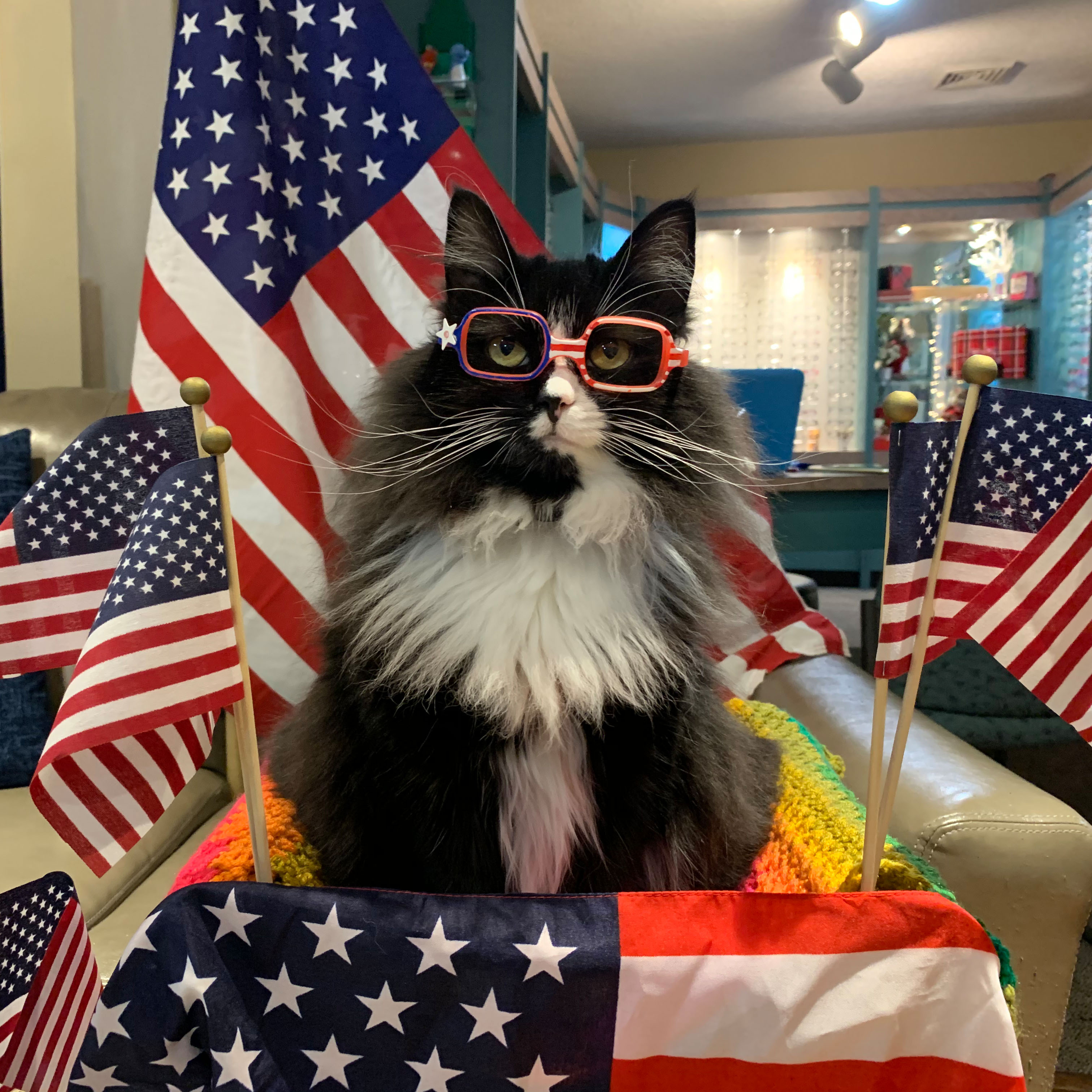 Truffles the Kitty has decided to try "paw-litics", throwing her red white and blue glasses into the ring.
Danielle Crull, spokes-human and treat manager for the campaign, says Truffles the Kitty has announced her intention to run for the highest office in the land, surprising media pundits.  "The field is pretty much littered with good candidates, but none has the ability to wave to the crowd like Truffles does!" Crull said. "The year 2020 is the purr-fect time for a candidate who is so focused on good vision."
Tops among her campaign issues, Truffles wants to make sure that all children receive a thorough eye exam early in life. The feline is passionate about love, acceptance and fashionable eyewear. Even though she is just two years old, the ridiculously fluffy cat already has a reputation of working tirelessly to combat the stigma for children who need to wear an eyepatch.
"Truffles the Kitty just feels 2020 is the right time to make people aware of childhood ailments such as amblyopia and the importance of putting glasses in their case at bedtime." Crull says.
Not only does she wear an eyepatch herself to encourage children, but Truffles also sends motivational packages to children all over to help them with occlusion therapy.  "Occlusion therapy is the accepted treatment for amblyopia, but it's not always successful, usually because the child isn't motivated to do their best.  That's where Truffles can be valuable.  We like to say that she motivates the child by giving them 'clues' on how to succeed in their occlusion therapy." Crull laughed.
Crull is the author of two childhood books about vision, "Apple Patty Patches" about amblyopia and patching, and "Banana Bobby Gets Bifocals", which teaches children who are new bifocal wearers how to use them.
Truffles the Kitty recently leapt to internet fame with her breakout video, "Truffles has Finally Embraced Her New Green Glasses," which reached nearly 3 million potential voters on Facebook and millions more on other media outlets such as People Magazine On-line, Lad-Bible, CBS this Morning and ABC's Good Morning America, where she was a finalist in Pet of the Year, "Most Tail-ented".
You can follow her campaign trail on her Facebook and Instagram pages.
Want to support Truffles' campaign?
Help spread the word by purchasing some TRUFFLES 20/20 merchandise!